Clear the Table – Decluttering the Dining/Kitchen Table
Clear the Table! Decluttering the Dining/Kitchen Table
How many times have you gone to set the table, but there is not one square inch left to even put a fork on?  Here in week three of decluttering the house let's work on those tables.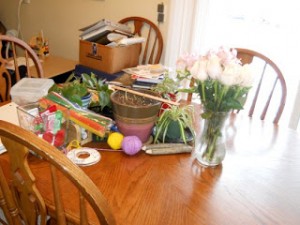 Do you sort the mail at the table?
Stand next to the garbage can when sorting the mail, so that you can immediately dump any of those items that do not need any of your attention.
Sort the mail into bills, must reads and letters.  (Letters, does anyone remember those? Never mind, back to the task at hand.)
Find an organizational tool that allows you to put bills and things that have to be handled into a separate space. For things that can wait, arrange them in the same organizational tool.
Does your family enjoy time at the table that does not include eating such as playing games, homework or crafts?  Good for you!
Find a storage area nearby where those things can be moved as soon as you are finished, such as a sideboard for the games and crafts, and the kiddos' backpacks when the homework is done.
Move all things that just don't belong on the table to proper locations:
Magazines – Put them in a basket or rack; discard the ones you have already read; and take a picture of that recipe or decorating idea.
Jackets and backpacks – Find a place in the entry or the utility room for hooks to hang these often used items. Preferably an area closest to the most-used entry door.
Leashes and treats for the dog – Move to the sideboard, closet or the laundry room cabinets.
Keys – Add hooks to the area that is closest to the garage door.
Electronic devices – Find a spot where there is an electrical plug and create a charging station.
Items used for meals (i.e., napkin holder and salt/pepper shakers) – Move those to the sideboard when not in use.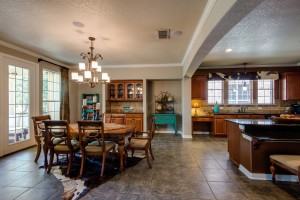 Declutter your dining room sideboard, buffet or shelves of the only once a year used items such as china and holiday decorations. Use those spaces for the things that are cluttering up the tables.
See you next week when we move to the Utility Room.
Last Week's Blog on Dining & Breakfast Areas