Harnessing the Sun: A Solar Energy Primer for Farmers & Ranchers
Solar technology helps a Texas couple embrace efficiency and self-sufficiency on their ranch.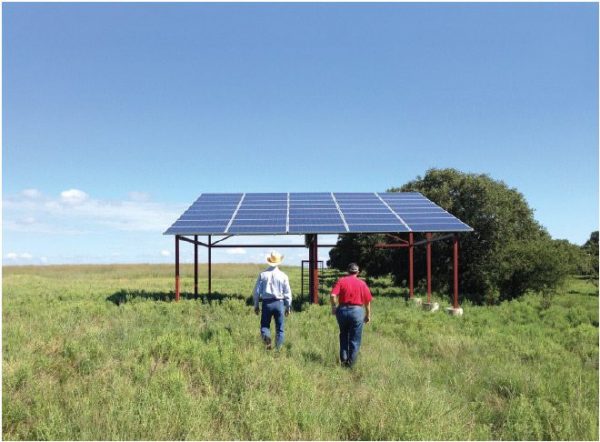 Harnessing the Sun: A Solar Energy Primer for Farmers & Ranchers
Larry and Ann Smith often joke about the expensive sunshade they built to protect their black Angus cattle from the hot Texas sun. But what really makes them smile is the amount of money the shade structure is saving them in utility bills.
The couple mounted 40 solar panels on the roof of the shelter they erected on their North Texas ranch in 2011. After all, they decided, if you can't escape the sunshine, you might as well take advantage of it.
The 10-kilowatt (kW) solar array tops a 25-by-32-foot steel frame shelter that is just the right size for their small herd of cows.
"They love it under here," Ann says as she walks under the solar panels and inverters, which turn the DC power produced by the panels into AC power that feeds into the electrical grid at their property. "When they're in this pasture, they'll spend most of the afternoon here."
The photovoltaic (PV) array wasn't the retired IBM engineers' first renewable energy system. Three years earlier, they had installed a wind turbine on their hilltop property outside Bowie. This property is not far from several large wind farms. There was plenty of wind, but the changeable direction was a problem.
"The turbine would turn so rapidly that it would shut down at its peak time of operation," says Larry, a systems engineer. "Solar's a much better way to go."
Ann, a software engineer, says it didn't take long to see the improvement.
"In two months the solar array overtook what the turbine produced in 2 1/2 years," she says.
Before the Smiths could start saving on utility bills, they needed to invest about $60,000 in the project. The couple called their local Capital Farm Credit loan officer, Travis Thorne, who made them a capital improvement loan that covered all of their project costs.
The eGauge on their laptop shows how the solar array has cut their annual electricity costs in half.
"It's very beneficial. Three or four months out of the year, we're feeding more energy into the grid than we're using," Ann says, pointing to colorful graphs of the electricity produced by the panels and consumed by the house, well pump and shop. They get credits from their utility company for the surplus, offsetting their bills for the remainder of the year.
Two tax benefits added to the savings: Homeowners and businesses can recoup 30 percent of the cost of a renewable energy system through a federal tax credit, and businesses can claim accelerated depreciation.
"The ag operation gives us the best of both worlds," Ann says, adding that their first photovoltaic system has almost paid for itself.
The Smiths' experience with solar power has proved so rewarding that they decided to increase their capacity. In 2016, they installed a second solar array for about half the price per watt, thanks to a dramatic drop in the technology's cost.
---
A Solar Energy Primer
How much does it cost to go solar?
Prices for PV systems have dropped more than 70 percent since 2010. The typical per-watt cost for a grid-tied system, including installation, is:
$3 to $4.50 for a residential system (up to 10 kilowatts, or 10,000 watts)
$2.50 to $3.50 for a commercial system (up to 1 megawatt)
$2 to $2.50 for a utility-scale system (1 megawatt or more)
How much solar energy does a system produce?
In the South and Southwest, a south-facing 1-square-meter flat solar panel tilted at an angle equal to the latitude can generate at least 4.5 to 6.5 kilowatt-hours of electricity per day, averaged over a year.
Here's how a 5-kilowatt (kW) grid-tied residential system with standard panels tilted to match the latitude can offset utility bills in Texas, where the average home uses 13,896 kWh of electricity per year. You can estimate the benefits for your location with the PVWatts Calculator, http://pvwatts.nrel.gov.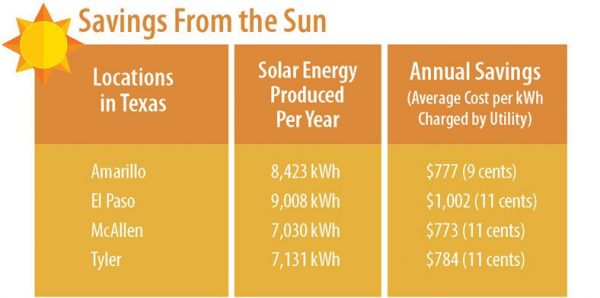 How else can you save with solar?
People with grid-tied systems generally pay the utility only for net energy consumed. The more owners receive through tax and incentive programs, the faster the system will pay for itself.
Benefits vary by state and utility. Learn more at the Database of State Incentive for Renewables and Efficiency, www.dsireusa.org.
Tax credits: Renewable energy systems qualify for a one-time federal investment tax credit of 30 percent of the total system cost. Some states also offer tax benefits.
Depreciation: Businesses can claim accelerated depreciation on federal taxes.
Cash incentives: Some states, municipalities and utilities offer incentives such as rebates.
USDA Rural Energy for America Program: Eligible ag producers and rural small businesses can receive incentives such as grants for 25 percent of the cost of a system.
How long does solar equipment last?
Panels are generally warrantied for 25 years and have a useful life of 40 years. Inverters are warrantied for 10 to 15 years but can last 20 years.
How are solar panels installed?
Generally, panels face south and are tilted to match the local latitude. Panels that can't be mounted on a roof because of the weight (2 to 4 pounds per square foot) or orientation can be mounted on a shade structure or a rack on the ground.
---