Buying a home can sound like a daunting and hard process, especially if you don't know where to start. We're here to guide you through the process. Here is your step-by-step guide on How to Buy a Home.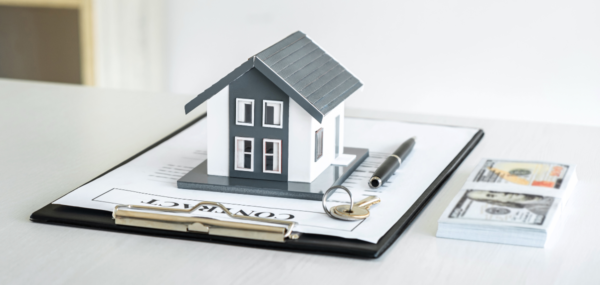 Start Saving for a Downpayment
The very first thing you will want to start doing is saving for a downpayment. Most of the time buying a home requires a mortgage. A mortgage is where a lender fronts you the money and you pay it back over a period of time.
So, how much should you save? It depends. A typical downpayment is 20% of the purchase price however, there are loan options requiring as little as 10% or 5%, or 0% (for VA or USDA loans).
Check Your Credit Score
In addition to a downpayment, you will want to make sure your credit score is decent. Lenders are going to check your credit score to check how dependable and likely you are to make your monthly payments.
In addition to using your credit score to judge your likelihood to make on-time payments, a lender will also be using your score to know what interest rate to give you and how much money to loan you. The better the credit score, the more likely a lender will loan you money and give you a good interest rate.
Get Pre-Approved
Getting pre-approved for a home loan is something we always recommend our clients doing before starting home shopping! Especially in this market, homes go under contract quickly and you don't want to miss out on that perfect home because you're not pre-approved yet.
During the pre-approval process, a lender is going to look at your financial background. Debt to Income ratio and assets are just a few things your lender will look at to decide what size monthly payment you will be able to realistically afford. This will help you be able to narrow down homes by price range.
Keep in mind that pre-approval is different from pre-qualification. A pre-qualification is a much simpler process that only gives you a ballpark figure of what you can afford. Lenders have zero promise to lend you money when pre-qualifying you. Getting pre-approved might be a harder process but it's worth it since it guarantees you can truly buy a home.
Not sure about how to find a lender? Contact us! We have amazing lenders we work with who we can recommend based on your needs.
Start House Hunting!
Once you're pre-approved, the house hunting can officially start! Contact your Boehm Team agent and we'll set up a search for you in MLS and send you available homes in your price range and desired area. We highly recommend having your agent help in the home searching process because we have access to the newest listings in MLS before they hit Zillow. Sites like Zillow or Realtor.com take time to update their listings, so the home you love might already be under contract by the time you get to see it in person.
Make An Offer
When you find a home you love, your agent will set up a showing for you both to go see it in person. Once seeing it in person you decide you love it, your agent will write and submit an offer for you. Your agent will walk you step by step through writing the offer. This is when having a knowledgeable and experienced agent is important. Your agent will advise you on what the offer needs to have to be competitive while still keeping your best interests in mind.
Go Under Contract
If your offer is accepted, congratulations! You are officially under contract! Once under contract, your agent will make sure all the steps needed in order to get to the closing table run smoothly and on time. They will help schedule things like home inspections and appraisals as well as communicate with the title company to make sure they have everything they need. Once the title company says everything is ready, you and your agent will head to closing and you'll officially become a homeowner!
Ready to start the home buying process? Contact us today and we'll make sure you start and stay on the right track!