The 10 Best Chicken Fried Steaks in Texas That'll Change Your Life
The 10 Best Chicken Fried Steaks in Texas That'll Change Your Life
Chicken fried steak is every Texan's dream meal so it is no surprise that in the Lone Star State, they know how to serve theirs up pipin' hot, smothered in cream gravy, and with sides that will make your taste buds sing with glee.
Here are our picks for the top 10 places to let your inner Texan indulge in the best crispy, tender chicken fried steaks in this great state.
That being said, pack up your truck and take a trip with us as we explore the best of the Lone Star State.
---
1. STRAWN: MARY'S CAFE  
Smack dab between Abilene and Fort Worth sits the best chicken fried steak in Texas. Our most popular reader suggestion was Mary's Cafe in Strawn, Texas, and if y'all weren't absolutely right!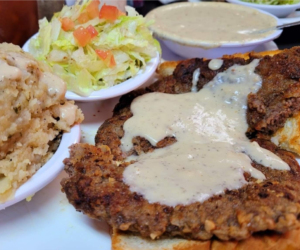 ---
2. SPRING BRANCH: RICHTER'S ANTLER CAFE 
Near Canyon Lake sits the second most popular suggestion for the best chicken fried steak in Texas. Again, this monster dish, covered in scrumptious gravy, certainly earned its spot on this list in the second slot, even if Mary's has the better batter.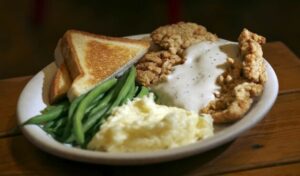 3. SAN ANGELO: ZENTNER'S DAUGHTER STEAK HOUSE 
Those who are stationed at Goodfellow Air Force Base certainly have it made in the shade by living in the same town as the chicken fried steak served at Zentner's Daughter Steak House.
The quintessential chicken fried steak is in its best form at this steak house, with a crust golden brown and fries piled high next to it. Wash down with a cold beer, and you've got one iconic meal found in Texas.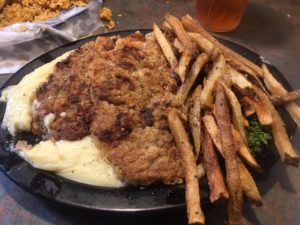 ---
4. AUSTIN: MOONSHINE PATIO BAR AND GRILL  
Moonshine Patio Bar and Grill's decadent chicken fried steak boasts a spicy, chipotle cream gravy and is big enough to make its way to the top of our best in Texas list.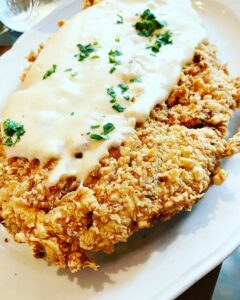 ---
5. FORT WORTH: HORSESHOE HILL CAFÉ 
Horseshoe Hill Café features five different ways to let your hungry inner Texan indulge in chicken fried steak.
Have your steak fried up and topped with an ancho cheese enchilada sauce, chili gravy, and a fried egg, or keep it classic with peppered cream gravy. Any way you indulge you won't leave disappointed or hungry.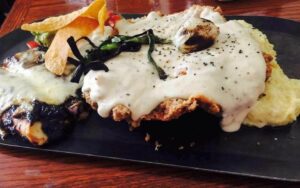 6. GALVESTON: MILLER'S SEAWALL GRILL 
Located on the Seawall since 1976, this Galveston Island hallmark has been serving up their chicken fried steak with two eggs your way and crispy hash browns.
At Miller's Seawall Grill, breakfast is served all day every day, so what better way is there to have your chicken fried steak and eat it too, than by covering it with cream gravy and perfectly runny egg yolks?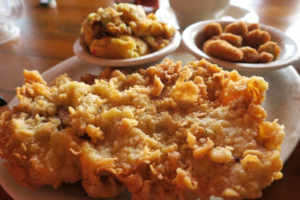 ---
7. HOUSTON: PAPPY'S CAFÉ 
This down-home Southern delicacy is topped with rich cream gravy and is paired with velvety mashed potatoes and your choice of house or Caesar salad.
Pappy's Café is every Houstonian's favorite spot to fill their bellies with some good ole country cooking.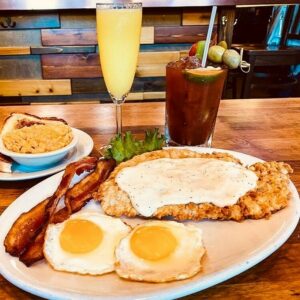 8. DALLAS: ELLEN'S
Ellen's features a chicken fried steak with perfectly spiced cream gravy that is the stuff dreams are made of.
Pair yours with their rich mashed potatoes, bacon-laced green beans, and a caramel macchiato that rivals a certain, very popular, coffee chain.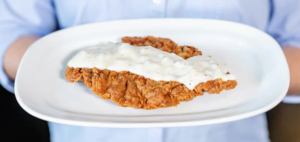 9. ABILENE: SKEET'S TEXAS GRILL 
At Skeet's Texas Grill they don't skimp on the food or the flavor, and every meal on their menu will fill you up without emptying your wallet.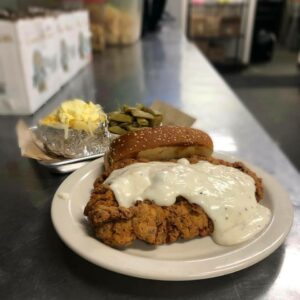 10. MIDLAND: SCOTTY'S SOUL FOOD AND BBQ 
Make your way to this local-loved hot spot for a delicious meal of chicken-fried steak covered in signature cream gravy.
Be sure to snag a basket of their cornbread and a side of their braised collard greens to round out the meal with some Soul Food flare.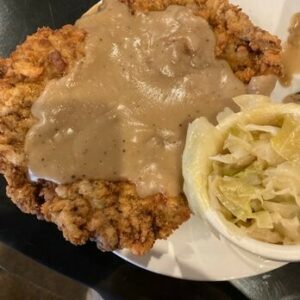 ---
Article courtesy of WideOpenEat.com
The 10 Best Chicken Fried Steaks in Texas That'll Change Your Life